Topics on this page
---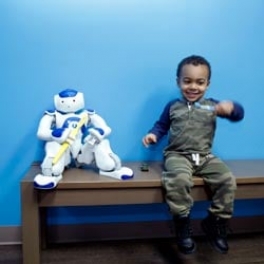 Regular Exams and Cleanings
Regular exams are an important part of maintaining your child's oral health. During your child's regular exam, which will take about 30 minutes, we will:
Check for any problems that may not be seen or felt
Look for cavities or any other signs of tooth decay
Inspect the teeth and gums
Perform a complete teeth cleaning, x-rays, and fluoride treatment
Visiting our office every six months gives you the chance to talk to the doctor about any questions you may have about your child's oral health. Regular exams are offered by appointment and walk-ins. Contact our practice today to schedule your child's next dental exam and teeth cleaning.
---
Fluoride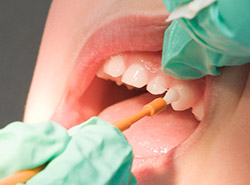 Fluoride is effective in preventing cavities and tooth decay and in preventing plaque from building up and hardening on the tooth's surface. A fluoride treatment in a dentist's office takes just a few minutes. After the treatment, your child may be asked not to rinse, eat, or drink for at least 30 minutes in order to allow the teeth to absorb the fluoride. Depending on your child's oral health or the doctor's recommendation, a fluoride treatment may be required every three, six, or 12 months.
---
Silver Diamine Fluoride (SDF)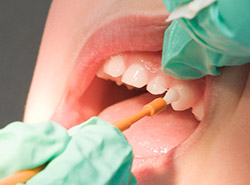 Silver Diamine Fluoride is a liquid that has been approved by the FDA, used in the treatment of active dental caries. It is an easy, noninvasive method of slowing or stopping carious lesions that can not be immediately treated with a restoration. This is helpful in very young patients, children with excessive decay, patients with special healthcare needs and those patients who can not return for dental treatment in a timely manner. Treatment with Silver Diamine Fluoride does not eliminate the need for dental restorations, but it will often times buy the patient valuable time in order to have their treatment completed.
---
Sealants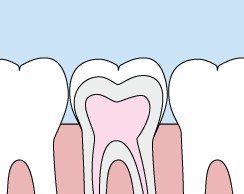 Sometimes brushing is not enough, especially when it comes to those hard-to-reach spots in your child's mouth. It is difficult for a toothbrush to get in between the small cracks and grooves on your child's teeth. If left alone, those tiny areas can develop tooth decay. Sealants give your child's teeth extra protection against decay and help prevent cavities.
Dental sealants are a plastic resin that bonds and hardens in the deep grooves on your child's tooth's surface. When a tooth is sealed, the tiny grooves become smooth and are less likely to harbor plaque. With sealants, brushing your child's teeth becomes easier and more effective against tooth decay.
Sealants are typically applied to children's teeth as a preventive measure against tooth decay after the permanent teeth have erupted. It is more common to seal "permanent" teeth rather than "baby" teeth, but every patient has unique needs, and your child's dentist will recommend sealants on a case-by-case basis.
Sealants last from three to five years, but it is fairly common to see adults with sealants still intact from their childhood. A dental sealant only provides protection when it is fully intact, so if your child's sealants come off, let your dentist know, and schedule an appointment for your child's teeth to be re-sealed.
---
Digital X-rays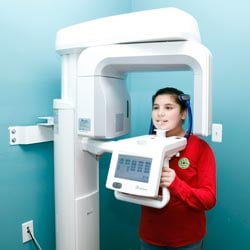 ​Using the most advanced dental technology possible is just as important as staying up to date on the latest treatment techniques. Because our practice is dedicated to providing your child with the safest and most convenient treatment options available, we utilize advanced digital X-ray technology in our office.
Is a digital X-ray really safer?
Because we care about your child's bodily health and well-being, we believe that reducing the amount of radiation exposure is extremely important. Although the amount of radiation used in dental X-rays is very small, the effect is cumulative, so all radiation counts. Digital X-rays can reduce your child's exposure to radiation by up to 80 percent!
What are the advantages of digital X-rays?
We want your little one to be as comfortable as possible during her appointment, and digital X-rays eliminate the need to bite down on a sharp piece of film encased in plastic.
There is no need to wait for the X-ray film to be developed before it can be viewed, so the entire checkup can be a lot shorter.
The digital images can be enlarged and manipulated, giving the doctor a clear, more detailed look at your child's teeth.
Because your child can see the image enlarged on a screen, she can better understand why taking care of her teeth is important.
It's better for the earth! There is no need to use harmful chemicals to process film.
Our practice is focused on making your child's dental experience as comfortable as possible. At your next appointment, we'll be happy to answer any questions you may have.